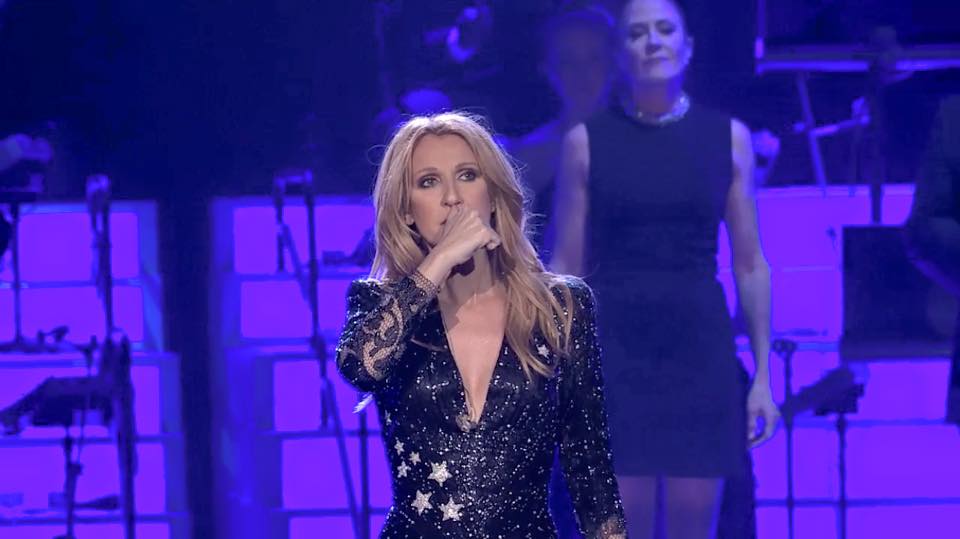 Celine Dion returned to the stage at the Colosseum at Caesars Palace just one month after husband Rene Angelil passed away. In what was set to be a highly emotional night, Celine invited fans from around the globe to watch a live stream of the opening of her show.
Like so many other fans in different parts of the world, I set my alarm for 3.15am UK time so that I could be there in spirit to support Celine's return to the stage. A group of fans named Les Red Heads suggested starting a Twitter trend with the hashtag #CelineReneLV which set social media buzzing.
As 7.30pm Las Vegas time arrived (3.30am GMT) I logged on to Celine's website to watch a live stream directly from The Colosseum.
Incredibly heartfelt, I bet there wasn't a dry eye in the house. The song "With One More Look At You / Watch Closely Now" previously performed by Barbra Streisand and Kris Kristofferson. Here is a transcript of her speech:
I did rehearse this song in my closet and it went way better than that.

Through my life I only had eyes for my husband who sat out here night after night. People thought that I was looking at him actually, but I didn't need to, because every time I closed my eyes I felt Rene on stage with me. Whether he was seated in his seat right there, on the balcony, backstage or at home with the kids. He's always been on stage with me and nothing will ever change that.

You know Rene always surround me with the very best people possible, I trusted him so much, that I never really had the change to worry about anything. No I guess it is only a natural impulse to constantly question myself. Would he let the kids play with these toys? And, is this song too fast? Is this song too slow? Don't talk too much? It is pretty amazing that since he's not physically no longer with me, he is even more present.

Rene was my very best critic. He never told me what I wanted to hear, he told me what I needed to hear. You know, night after night on our way back home from the show, when he was so silent, I could sense that he was trying to know how to approach me without hurting my artistic feelings. But there were things that he had to tell me for my own growth.

Rene is the only man that I have known all my life. He always made me feel that we were on our first date, isn't that amazing? Yeah. Never talking bluntly, and always impressing himself in a soft and gentle way. We were one and nothing has changed. We will always be one.

You know, I might not hear his voice yet, but I talk to him, I think of him all the time. I feel and I know he hears me. One way or another I know he will give me a sign for his approval or not. And now, I can feel that he's telling me to zip it and start singing.

Thank you so much, thank you so very much for being here tonight.
After the show, many people had shared Celine's performance of "All My Myself", she was unable to sing the last part of the song. The meaning and lyrics of this song all too poignant.
Some lucky fans managed to get a selfie with the lady:
Sending cosmic hugs and lots of love,
CLV xx