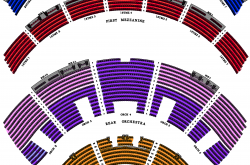 Celine Dion's fan club "Team Celine" just announced presales for new Las Vegas show dates later this year. Did that make your heart pound a little faster? Did you panic and start the immediate search for further information and your wallet? That's usually my reaction, but don't worry we have some time to formulate a plan to get the best seats.
There are a few options available at this stage, Team Celine membership (which is free) will get you a passcode to gain access to presales right now and/or fan club seats at any time, providing seats are still available. I know, you want to be close to Celine, right? We all want to be sat on the front row but getting those seats is not so easy.
I had a look through most of the dates from September through November 2016, but the best I could find for Price Level 1 in the TC section is in Orch 4 row EE. The Amex presale will get you the row behind. Price Level 2 has seats from around row KK onwards. If you can get an aisle seat in Orch 3 you might even be one of the lucky ones to get a selfie with Celine during the show when she walks through the audience.
There is also an AXS presale which goes live today! This is the one I'm going to try for, last year I was able to get really good seats in Orch 2. Set your "Celine Alarm" as I call it, which is today, 25th February 2016 – 10am PST.
Your password is: AXSCELINE16
The next time to panic and try again is when the public sale starts on Saturday, 27th February 2016 at 10am.
Of course, there are always Ticket Brokers where you can usually buy seats right at the front and also purchase tickets to sold out shows.
Let me know how you get on and please share your tips and experiences.
Good luck!