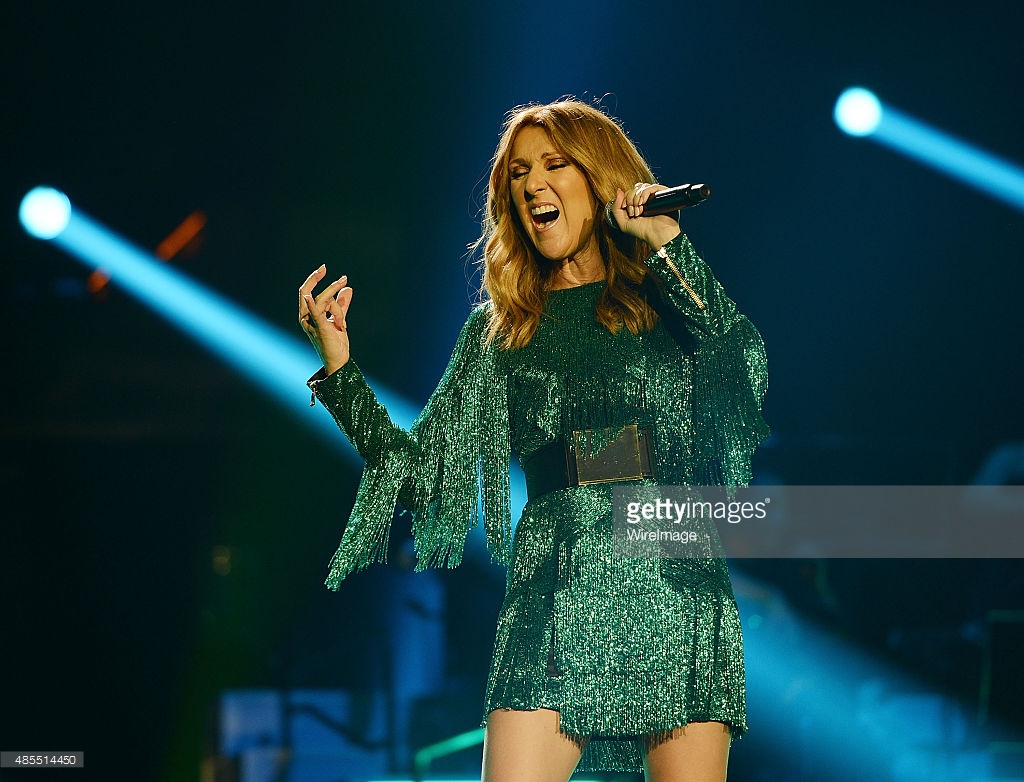 On Thursday August 27th Celine Dion made her return to show business with her phenomenal new show at Caesars Palace. Many of you will already know that Celine had taken a year off to look after her husband Rene Angelil, who still continues to fight throat cancer. In a recent interview Celine said "He [Rene] said, 'You're my favourite singer and I want to see you back on stage singing.'"
At the beginning of this week I had no idea that I would be lucky enough to go and see the show for myself. I was excited to see many fellow fans and facebook fans embarking on their journeys to Las Vegas from around the globe. Out of the blue a good friend of mine contacted me and said that she had a spare ticket and asked me if I could come. I work two jobs, where short notice requests for leave are nigh on impossible, but on this occasion, it somehow became a reality.
I landed at 3.15pm on the day of the show, fought my way through customs and immigration, picked up my car and floored it to the Flamingo Hotel & Casino (which is directly across the road from where Celine's show is). I freshened up and by that time it was already 6pm. I was on a mission to get to the Colosseum at Caesars Palace ASAP. There was distinct buzz about the place, I could see film crews everywhere and there was only one topic of discussion – Celine Dion.
I met with my friend and we grabbed a quick drink for our pre-show nerves/excitement. Celine was running late that night which was most likely due to the earlier press conference. Our Celine hates to be late, she doesn't like to keep her fans waiting. We didn't mind at all. We were sat up in 2nd Mezzanine, which I'm very fortunate to say was the first time I sat so far away from the stage. We were wondering if they'd supply oxygen and peanuts for the altitude…  😉
When the lights when down and the curtains opened, we were shown a video montage from fans around the world of "I Drove All Night". It was so nice to see so many of my friends make the final cut and myself included! Although I didn't see me at the time, thanks to social media magic, I was tagged in a photo!
Celine took to the stage and started the show with "I Surrender", it was very emotional for her and for the audience. Everyone in the Colosseum knew about the turmoil Celine and her family are currently going through. The set list was an emotional roller coaster. But going to see Celine on opening night with so many of the audience "regulars", was like a family reuniting. As cheesy as it sounds, we've got Celine's back and she knows it.
Under her new management and new musical director, there had been quite a few changes to the show. There was a jazz medley, (and I'm ashamed to admit) I had never heard the song "Mr Paganini" originally by Ella Fitzgerald.  It really reminded me of Lady Gaga and Tony Bennett… Very "cheek to cheek"! During costume changes the band and backing singers performed quite a few non Celine songs, definitely trying to appeal to the wider audiences. That said, they really nailed it – and those boys and gals can dance! Other additions to the show included virtual duets with the Bee Gees and the king himself, Elvis Presley.
I think it's safe to say that the highlight and of the night was the Queen cover, "The Show Must Go On" (I'm sure many of you would agree). Celine had covered the song on previous tours, but this time the lyrics came seemed more poignant and autobiographical to her, "Inside my heart is breaking, my make-up may be flaking, but my smile still stays on".
She finished with a very moving rendition of "Somewhere Over The Rainbow". Celine's sang with only the accompaniment of a piano. A beautiful performance, you could feel a mixture of Celine's strength and fragility and with all these emotions, she had half the audience in tears as she closed out the show "If happy little bluebirds fly beyond the rainbow Why, oh why can't I?"
I flew 5,240 miles from the UK to spend a grand total of 20 hours in Las Vegas before flying back again. It was totally worth it. I say it again, what an emotional roller coaster. Wow! I'm so glad that Celine is back.
Playlist
"I Drove All Night" (fan montage)
"I Surrender"
"Where Does My Heart Beat Now"
"Because You Loved Me"
"It's All Coming Back to Me Now"
"The Power of Love"
"(If You Can't Sing It) You'll Have to Swing It (Mr. Paganini)"
"Quand ça balance"
"First Time Ever I Saw Your Face"
"Beauty and the Beast"
"Immortality"
"All the Way" (Sinatra duet)
"If I Can Dream" (Elvis duet)
"A New Day" (acoustic)
"That's the Way it Is" (acoustic)
"I'm Alive"
"Incredible"
"Unison"
"All By Myself"
"The Show Must Go On"
"Kiss"
Band Medley
"Purple Rain"
"My Heart Will Go On" [Encore]
"Somewhere Over the Rainbow" [Encore]