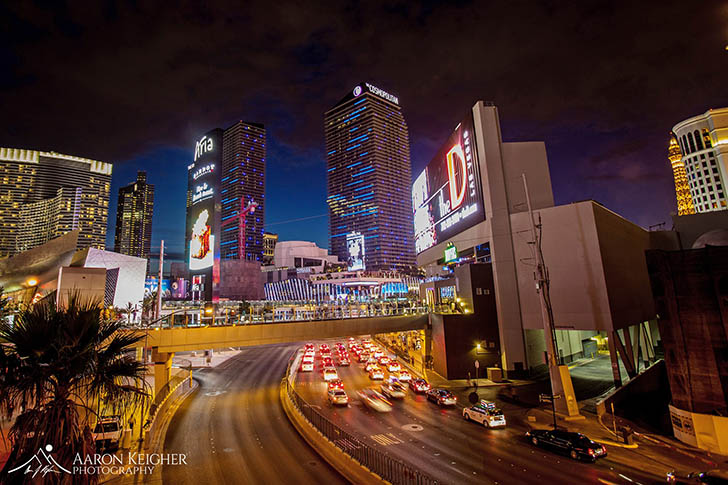 Three photographers from California teamed up to create this stunning time lapse video of Las Vegas at night. Michael Bloom, Arlene Ziordia and Aaron Keigher have cleverly produced this perfect example of a night in Vegas.
The trio started off filming on the I-15 heading north, hot on the tail of luxury sports cars. For the most part, they photographed the south end of The Strip, speeding up traffic at intersections and tastefully slowing down the drama of the fountains at the Bellagio. An indoor scene was filmed at Caesars Palace by the slot machines just in front of the Colosseum entrance, if you have ever been you will instantly recognise the carpet!
This video will have tourists (and budding photographers) rushing to book their flights to Las Vegas. What a beautiful city Las Vegas is, and this, a truly inspirational video. Enjoy.
One Night In Vegas from Aaron Keigher on Vimeo.
A four hour drive, three photographers, two states and One Night in Vegas.
_______________________________
Music:
Verona Grove – Las Vegas Nights (Thank you for letting us use your awesome song!)
Links:
Aaron Keigher
Website: www.aaronkeigherphotography.com
Facebook: www.facebook.com/akeigher
Instagram: www.instagram.com/aaronkeigherphotography
Michael Bloom
Facebook: www.facebook.com/MikeBloom
Vimeo: www.vimeo.com/user4233031
Arlene Ziordia
Facebook: www.facebook.com/arlene.siordia
_________________________________________________
Aaron Keigher is represented by Blackbox Media – Contact: Lowell Shapiro 424.258.4204 or [email protected]