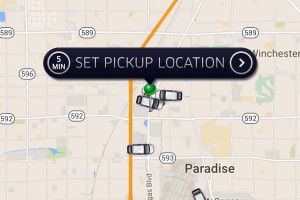 Uber is an app for your smartphone which enables the user to get a taxi, private car or ride-share in cities around the world. This time last year some judge somewhere decided that couldn't happen and the app was blocked for use in Las Vegas.
Great news: this has now been overruled and the Uber app is now showing those little black cab icons throughout the city. To sign up all you need is a credit card, phone number and of course the app which can be downloaded for free from www.uber.com
Another app called "Lyft" is now operating in the same way. Please note that neither company is permitted to pick up rides from McCarran Airport for the moment.
#TT #TravelTuesday
Don't forget to follow Celine Las Vegas on Facebook, Twitter and Instagram for more updates.