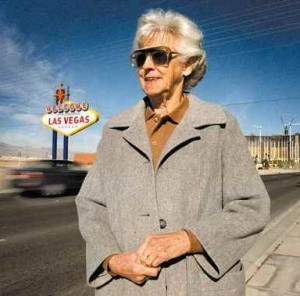 Most of us have probably never heard of Betty Willis, but her design of the Las Vegas sign has become a global icon. She was born and raised in Las Vegas and worked as a commercial designer. Her other notable works include signs for Moulin Rouge casino and the Blue Angel Motel. She died aged 91 in her home on 19th April, 2015.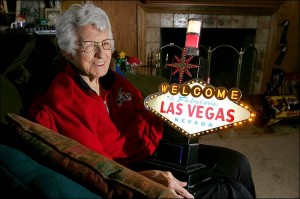 The "Welcome to fabulous Las Vegas" sign was never trademarked, which is the reason why you can see the image repeated everywhere on key rings, t-shirts, postcards, you name it! Betty said "It's my gift to the city".
The Las Vegas sign was first lit up in 1959. Since then the surrounding areas have changed significantly, there were no nearby by buildings and the sign stood alone on a gravel covered median of Las Vegas Boulevard. If you wanted a photo you had to risk your life running across a busy 3 lane road! Since 2008 the sign has its own parking lot, making the sign accessible to everyone for the ultimate souvenir selfie.