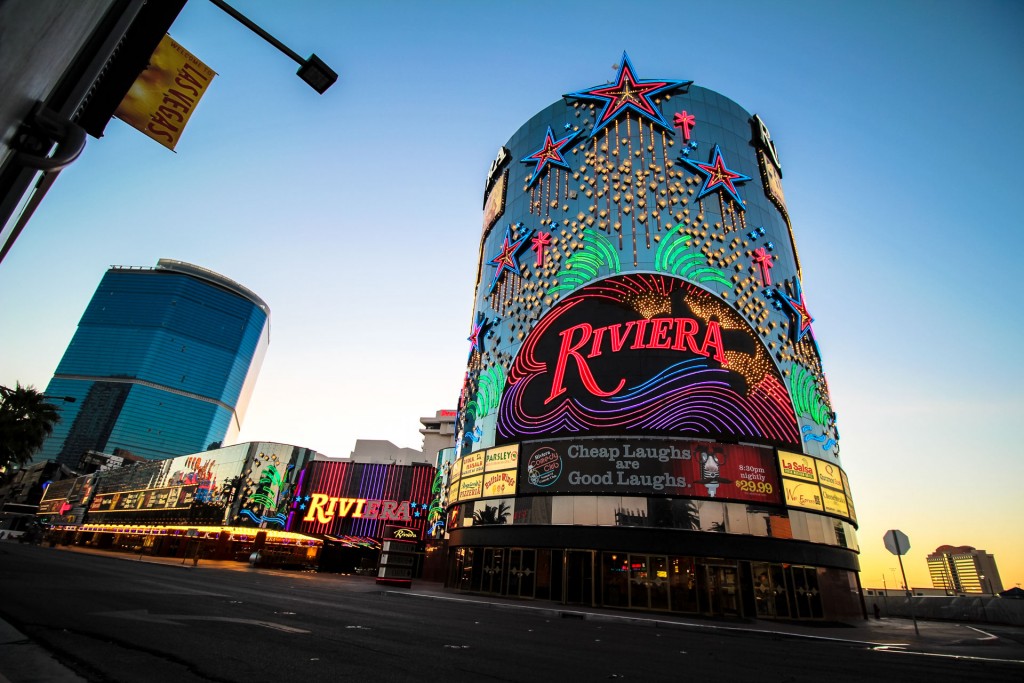 Riviera Hotel and Casino closed its doors at noon on May 4th, 2015. Last week I made a crazy, last minute, 46 hour visit to Las Vegas all the way from Liverpool, UK, especially to say goodbye to the Riviera. With such a beautiful facade of bursting neon color, I had to make it my business to capture as many photos as possible to keep the memory of the Riv (as it's known by locals) alive.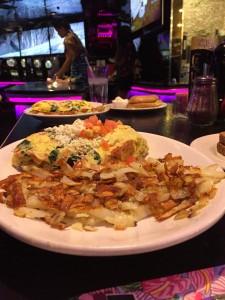 We flew in to McCarran airport via Atlanta, on a journey that took roughly 19 hours from door to door. Tired and hungry we made a quick pit stop at the Peppermill, a vintage Vegas dining destination. After filling up on a late night breakfast, a portion fit for a giant, we made our way to the parking lot, back to our rental car – all the while admiring the twinkling lights of the Riviera. We stayed across the road at Circus Circus hoping to get a view of the Riv and from the right angle (head squished against the far corner of the window), we could see it, with its neon lighting up the street.
Westbound long-haul flights inevitably lead to early morning awakenings, which in this instance worked in my favor. At roughly 5.30am the sun was already lighting up Las Vegas boulevard and in a crazed frenzy I grabbed my camera and tripod, and hot footed it through Circus Circus casino floor, all the way outside to take as many photos of the Riv before the sun fully popped up over the eastern mountains. So there I stood, in the median of the road, frantically snapping away, with just the diverse company of a few early morning joggers and the traditional Vegas drunks. Later that day we returned to spend some quality time inside the Riv, I even tripled my money – went in with $10 and left with $36.50, thanks to the Beetlejuice slot machine – ka ching!
We planned to come back again that evening for a night time photo shoot, but I completely forgot to calculate in "The Vegas Factor". For those of you who have been to Las Vegas before, you'll know what I'm talking about, but to all you Vegas virgins out there, suffice it to say "what happens in Vegas, stays in Vegas!" Yes, before I knew it, I woke up and it was daylight again. As the Americans would say "DANG!" So… I'll just have to "borrow" the photos my mum took a few weeks earlier….
Before we packed up and left, we went outside our hotel one last time, and took a few final photos. Here's wishing all Riviera employees good luck in their future endeavors and many thanks to the Riv herself for being such a stunning icon, and making 60 years of classic Las Vegas history. You did good kid.