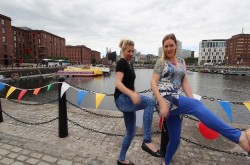 The things we do for Miss Celine Dion… Liverpool is home to the Beatles and it also happens to be where I live. By now everybody in the city of Las Vegas, and the Celine community, all know that Celine comes back to the stage on August 27th. A couple of weeks ago Celine recorded a video message asking her fans to "Be Part of the Show".
The guidelines were very simple; record a video of yourself performing Celine's hit song "I Drove All Night". You were asked to showcase your home city, either singing or lip syncing, holding up a sign stating where you're from and to fly a red balloon between you and the camera. Somehow I managed to convince my partner that it would be a great idea to join me on this venture. Off we went with a tripod, camera, balloon and card in hand, ready to go and shake our best Celine moves in the city centre!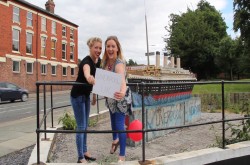 On our way into town, by chance we drove by an 11ft mosaic replica of the Titanic. There was no way could drive past without letting our hearts go on and on a little! At this point we were feeling slightly self conscious, so we had a quick dance around and then we moved swiftly on to Liverpool's famous waterfront, the Albert Dock.
Gaining in confidence we rocked our best Celine moves around the Albert dock, with aerial views of the city from the Wheel of Liverpool, and we also had backdrops of the docks with the Beatles' Yellow Submarine and another Titanic replica was hiding just behind that. We fought through tears of laughter as we even choreographed mini routines, including air guitars and chest thumps! We ended our performance in front of one of the most iconic buildings of our city, the Liver Buildings.
So Miss Celine Dion, was that alright? We'd LOVE to be part of the show! See you in September.