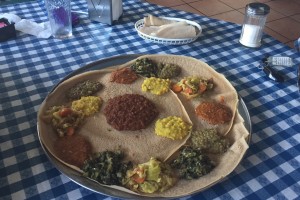 Considering that the city of Las Vegas is in the middle of nowhere, it is actually a culinary capital of the world. Every conceivable type of cuisine is on offer from fast food to fine dining. If you happen to be spending World Food Day in town you can easily indulge on whatever the heck you like!
Today I'd like to share with you my off Strip discovery of Ethiopian food. Simple foods full with contrasting flavours which is served on an edible floor of bread. My friends and I shared a vegetarian platter, which was actually 100% vegan, and consisted of 5 scrumptious home made dishes. Ingredients included lentils, cabbage, chick peas and various beans.
The restaurants surroundings were very basic but this was completely overshadowed by friendly service. The servers explained what each of the dishes were made of and brought us more helpings of the dishes we liked the most – which was Yatakilt Alicha (cabbage, carrots and potatoes delicately sautéed with onions and garlic).
Las Vegas Finest Ethiopian Restaurant and Bar
6182 West Flamingo Road Las Vegas, NV 89103